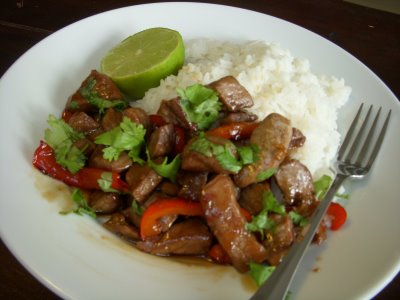 Get ready for a taste sensation with this dish! I found this recipe years ago while living in California, and it quickly became a family favorite. Sunset Magazine gets all the credit–I haven't changed a thing. Serve it over over Jasmine rice to soak up all the sweet and sour sauce.
Ingredients:
1 sweet red bell pepper, rinsed, seeded and sliced into strips
1 lb. boneless beef top sirloin, cut into strips (many grocery stores sell beef pre-cut into strips)
1/2 teaspoon vegetable oil
1/3 cup fresh lime juice (do not use bottled)
2 Tablespoons honey
2 Tablespoons Hoisen sauce (find this in the Asian aisle of most grocery stores)
3 teaspoons soy sauce
2 Tablespoons fresh minced ginger root
1/2 teaspoon hot chili flakes (optional)
1/4 cup minced fresh cilantro
Directions:
Pour oil into a large frying pan, over high heat.
When oil is hot, add bell pepper strips and stir-fry until tender crisp (about 3 minutes).
Remove bell peppers from pan and set aside in a bowl.
Add beef strips to hot pan and stir-fry until no longer pink (about 5 minutes).
While beef is cooking, mix the following together in a separate bowl: lime juice, honey, Hoisen sauce, soy sauce, ginger and chili flakes (if using). Set aside.
With a slotted spoon, remove cooked beef to bowl with peppers.
To meat juices in pan, add sauce mixture and boil over high heat until reduced (about 6 minutes).
Pour beef and peppers back into pan and stir into sauce. Cook about 2 minutes, until hot.
Sprinkle with fresh cilantro.

Related Recipes