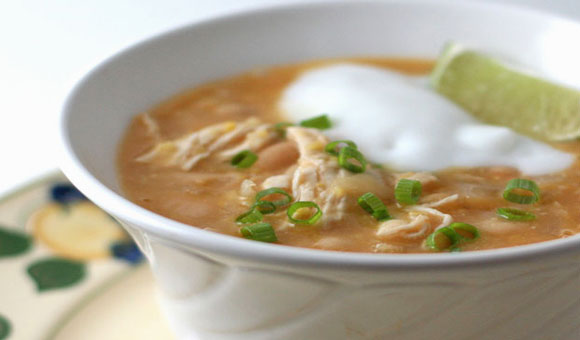 As the weather gets colder, I swear chili tastes better. So I came up with this recipe combining many of my favorite flavors. The next time you need warming up, simmer a pot of this delicious chicken chili packed with fresh ingredients. Top it with tortilla chips, sharp cheddar cheese and a dollop of sour cream. This chili tastes even better re-heated the next day.
Ingredients:
2 Tablespoons extra virgin olive oil
1 cup onion, chopped
2 fresh garlic cloves, minced
2 cups cooked chicken, diced
2 cans (15 1/2 oz. each) white beans, drained and rinsed
1 can (15 1/2 oz.) diced tomatoes
1 1/2 cup chicken stock
2 cups milk
1/4 cup flour
1 can diced green chilies
1 cup corn
Juice from 1 fresh lime
1 teaspoon ground cumin
1 teaspoon chili powder
1/4 cup fresh cilantro, chopped
Salt, to taste
Directions:
Whisk flour into milk and set aside.
In a large stock pot, heat olive oil over medium high heat.
Stir in onions and garlic and saute until tender and fragrant, about 2 minutes.
Add chicken stock, diced tomatoes, lime juice and milk mixture to pot. Stir to combine.
Add beans, corn, chicken, green chilies, cumin and chili powder. Stir to combine.
Bring to a boil. Cover. Reduce heat to low and simmer 1 hour, stirring occasionally.
Just before serving, stir in fresh cilantro and salt to taste.

Related Recipes