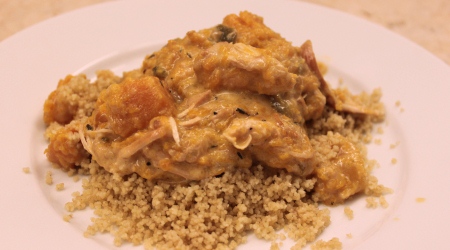 Ladies and gentlemen…drum roll please…may I present to you…the 400th recipe on this site!!!! And boy, oh boy, did I pick an incredible recipe to celebrate with! This stew has an amazing combination of fresh flavors that simmer together all day. The scrumptious result is chicken that falls apart, butternut squash that literally melts as you stir in the crème fraîche, and a dinner that will not disappoint! Scoop this over a bed of whole wheat couscous (prepared using chicken stock in place of water). Really–you need to make this tonight!! Thanks to my friend Nicky for sending this recipe my way (from BBC.co.uk).
Ingredients:
1/2 cup all-purpose flour
4 Tablespoons extra virgin olive oil
1 lb. boneless, skinless chicken thighs, chopped into 1-inch pieces (chicken breasts work well too)
1 yellow onion, chopped
4 fresh garlic cloves, minced
2 Tablespoons canned diced green chilies, drained
6 oz. white wine
1/2 fresh butternut squash, peeled, chopped into 1-inch pieces
10 oz. chicken stock
5 sprigs fresh thyme, chopped
3 bay leaves
4 Tablespoons crème fraîche (you can substitute sour cream)
Kosher salt and freshly ground black pepper, to taste
Directions:
Heat 2 Tablespoons of oil in a large non-stick skillet, over medium high heat.
Sprinkle flour onto a plate.
Dredge chicken pieces in flour.
Saute chicken in skillet 5-7 minutes, or until browned all over. (You may need to brown the chicken in batches.)
Place browned chicken into slow cooker.
Heat remaining 2 Tablespoons oil in same skillet.
Add onion and cook 5 minutes.
Add garlic and green chillis and cook another 2 minutes.
Add wine and continue to cook another few minutes, or until liquid is reduced by half.
Scrape onion mixture into slow cooker, on top of chicken.
Add butternut squash, chicken stock, thyme and bay leaves to slow cooker.
Gently stir everything together, gently pressing down so everything is covered with liquid.
Cook 6-8 hours on low (depending on how fast your slow cooker cooks.)
About 30 minutes before serving, gently stir in crème fraîche and season to taste with salt and freshly ground black pepper.
Cook an additional 30 minutes, until heated through.

Related Recipes