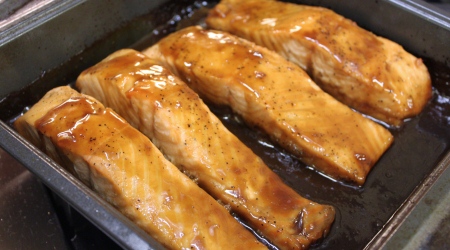 Here's another one from Cooking Light magazine (can you tell that's one of my favorite resources??). I absolutely love this salmon dish–and so do my kids! It's sweet, savory and the salmon bakes up perfectly. I serve this salmon with butternut squash risotto for a fabulous winter dinner. Enjoy!
Ingredients:
6 (6-oz) salmon fillets
1/4 cup packed brown sugar
1/4 cup maple syrup
3 Tablespoons soy sauce
1 Tablespoon Dijon mustard
Fresh ground black pepper, to taste
4 teaspoons sliced almonds (optional)
Directions:
Pre heat oven to 425 degrees F.
Spray 9×13 baking dish with Pam cooking spray.
Place salmon fillets in prepared baking dish.
In a bowl, combine brown sugar, syrup, soy sauce, mustard, and pepper with a whisk.
Pour sauce over salmon.
Cover dish with tin foil and bake 10 minutes in hot oven.
Remove tin foil, sprinkle the fillets evenly with almonds (if ya want).
Bake additional 10 minutes, uncovered, or until salmon flakes easily when tested with a fork.
Spoon sauce over salmon and serve hot.

Related Recipes