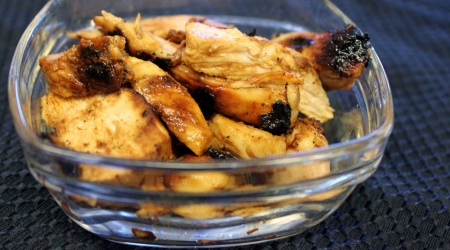 It's summer so bust out that grill and try these incredible marinated chicken breasts!! This KP original recipe makes perfectly flavorful and moist chicken that's perfect for fajitas or served along side Slow Cooker Refried Beans, Kentucky Spoon Bread, or Mexican Rice and Beans. And of course this goes great with a frosty, citrussy, frozen margarita!
Ingredients:
6 boneless, skinless chicken breasts
1/2 cup margarita mix
1/4 cup extra virgin olive oil
Juice from 2 fresh limes (about 1/4 cup)
2 teaspoons lime zest
3 Tablespoons fresh cilantro, chopped
2 Tablespoons honey
4 fresh garlic cloves, minced
Freshly ground black pepper, to taste
2 teaspoons onion powder
Directions:
Whisk together all ingredients (except chicken) in a large bowl.
Pierce chicken breasts several times with a fork.
Place chicken in a large Ziplock bag.
Pour marinade on top.
Press out all air and seal bag tightly.
Place in fridge and marinate 12 hours or overnight.
Heat grill to medium heat.
Remove chicken from marinade. Discard marinade.
Grill chicken breasts 8-12 minutes per side, depending on thickness. Cook until no longer pink inside and charred nicely on the outside.
Remove chicken from grill and allow to rest 5 minutes. Serve whole or slice to wrap in fajitas.

Related Recipes