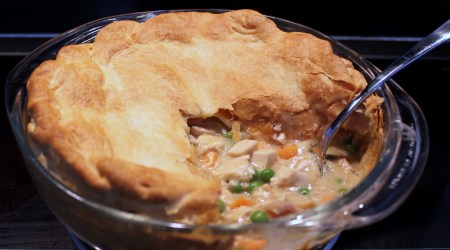 Never again will you eat a frozen pot pie after you try this recipe. It's comfort food at it's best. The chicken, the veggies and the gravy, together with the flaky pie crust, make an incredible combination. Thanks to my friend Lindsey for this recipe!
Ingredients:
2 refrigerated pie crusts
1 (10 oz.) package frozen peas and carrots
1/2 cup fresh celery, chopped
1/3 cup white onion, chopped
1/3 cup butter
1/3 cup all-purpose flour
Fresh ground black pepper, to taste
1 3/4 cup chicken broth
2/3 cup milk
3 cups cooked chicken, chopped
Directions:
Pre heat oven to 425 degrees F .
Rinse frozen peas and carrots and drain.  Set aside.
Melt butter in large saucepan over medium heat.
Stir in onion, celery, flour and pepper.
Cook, stirring constantly until mixture bubbles, about 5 minutes.
Whisk in chicken broth and milk.
Bring mixture to a boil.
Boil, stirring constantly, for 2 minutes or until thickened.
Stir in chicken and peas and carrots.
Remove from heat.
Press 1 pie crust into ungreased 2 1/2 quart casserole dish.
Pour in chicken mixture.
Cover with remaining crust, pinching edges to seal.
Cut very small vent in top pie crust to allow steam out.
Bake 35 minutes.
Check after 20 minutes and if crust is browning too quickly, lightly cover with tin foil.
Allow to cool 10 minutes before serving.

Related Recipes