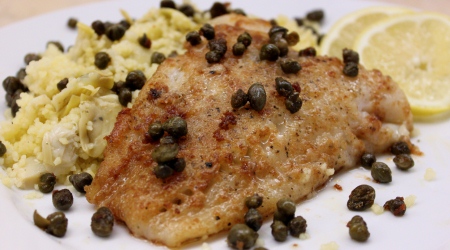 This recipe was destined to happen for two reasons–fresh cod was on sale this week at my grocery store, and I forgot to buy breadcrumbs. So I searched the web for a super simple way to pan fry fish and I found this on FoodNetwork.com. All I can say is thank you destiny! This fish is incredible. It had 45 reviews on the FoodNetwork site and they're all 5 stars. Definitely worth a try. I served it over couscous mixed with marinated artichoke hearts, and of course, lots of freshly squeezed lemon.
Ingredients:
4 pieces fresh cod fillet, equal size and thickness
Garlic salt and freshly ground black pepper, to taste
1/2 cup all-purpose flour
2 Tablespoons extra virgin olive oil
3 Tablespoons butter, divided
2 Tablespoons capers, drained
2 fresh lemons, juiced
Directions:
Heat a large heavy skillet over medium high heat.
Season fish on both sides with garlic salt and pepper.
Lightly dredge fish in flour and shake off excess.
When pan is hot, add olive oil followed immediately by 1 Tablespoon butter.
As soon as foaming subsides, place fish in pan.
Jiggle pan for the first 10 seconds to keep the fish from sticking.
Cook until a golden crust forms (about 6-8 minutes depending on thickness of fish).
Using a spatula, carefully turn fish over and again jiggle pan for the first few seconds.
Cook until that side is golden brown (another 6-8 minutes).
Remove fish from pan and place on a warm plate.
Carefully pour out cooking fat, and add remaining 2 Tablespoons butter to same pan.
Add capers to pan and quickly brown over medium high heat (about 2 minutes, stirring often).
Remove pan from heat.
Add lemon juice to pan and swirl.
Pour sauce over cooked fish and serve.

Related Recipes