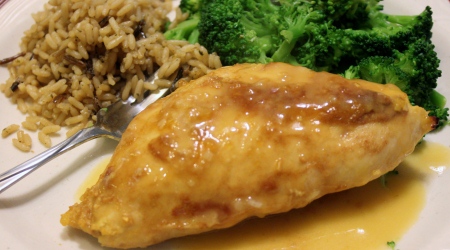 Here's an easy one for you. And you probably have all ingredients in the fridge right now. This sweet and tangy sauce is delicious over the chicken, but also great over rice. Serve with steamed broccoli for a complete dinner!
Ingredients:
4 skinless, boneless chicken breasts
2 Tablespoons Dijon mustard
2 Tablespoons dried minced onions
3/4 cup brown sugar, divided
2 cups orange juice
2 Tablespoons butter, cut into 4 pieces
2 Tablespoons all-purpose flour
Directions:
Preheat oven to 375 degrees F.
Spray 9×9 baking dish with Pam cooking spray.
Place chicken in dish and evenly spread mustard over each piece of chicken.
Sprinkle evenly with minced onion.
Sprinkle evenly with 1/2 cup of brown sugar.
Pour orange juice over chicken.
Add one piece of butter on top each piece of chicken.
Bake, un-covered, for 45 minutes.
Remove dish from oven.
Pour sauce from baking dish into a saucepan on the stove. Leave chicken in dish.
Sprinkle chicken with remaining 1/4 cup brown sugar and return to oven for 10 minutes to glaze.
Whisk flour into sauce in saucepan and heat on high until sauce thickens, whisking often (about 5-10 minutes.)
Remove chicken from oven and serve with gravy.

Related Recipes