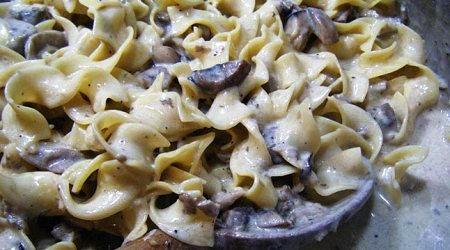 Need a break from beef? This veggie dish is fantastic! Use vegetable stock in place of beef stock for a vegetarian meal (personally I like the beefy stock flavor with mushrooms.) Found this recipe online, but added my own touches along the way

Ingredients:
2 teaspoons extra virgin olive oil
1 shallot, finely chopped
1 Tablespoon paprika
2 fresh garlic cloves,crushed
2 cups mixed mushrooms, chopped
3/4 cup beef stock
1 Tablespoon Worcestershire sauce
3 Tablespoons sour cream
Fresh parsley or chives, chopped, for serving
2 cups egg noodles, cooked according to package directions, for serving
Directions:
Heat oil in a large non-stick frying pan and saute shallot about 5 minutes.
Add garlic and paprika, then cook 1 minute.
Add mushrooms and cook on a high heat, stirring often, about 5 minutes.
Pour in stock and Worcestershire sauce.
Bring to boil, and bubble 5 minutes or until the sauce thickens.
Remove from heat.
Stir in sour cream and parsley or chives (if using).
Serve over hot, cooked noodles.

Related Recipes