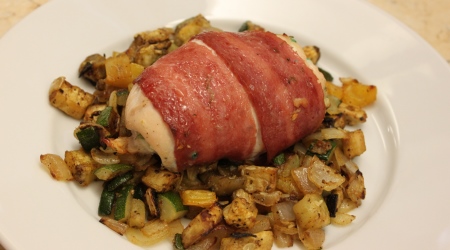 I was exploring a new website, called Slimming World, and ran across this recipe. This chicken dish is easy to pull together and really tasty. You'll see more recipes coming from Slimming World in the near future–great stuff!
Ingredients:
4 chicken breasts, skinless and boneless
4 fresh garlic cloves, peeled and crushed
2 Tablespoons fresh tarragon, finely chopped
2 Tablespoons cottage cheese, blended until smooth
1 teaspoon finely grated lemon zest
Freshly ground black pepper and kosher salt, to taste
8 strips of lean turkey bacon, raw
Directions:
Pre heat oven to 425 degrees F.
Make a cut lengthwise down the side of each chicken breast to make a pocket – but do not cut all the way through.
In a small bowl, mix together garlic, tarragon, cottage cheese and lemon zest until well combined. Season well with salt and pepper.
Stuff each chicken equally with mixture and then carefully wrap each breast with 2 pieces of bacon.
Secure ends with a toothpick.
Bake 20–25 minutes or until bacon is lightly browned and the chicken is cooked through.
Remove from oven and serve immediately over roasted vegetables.

Related Recipes