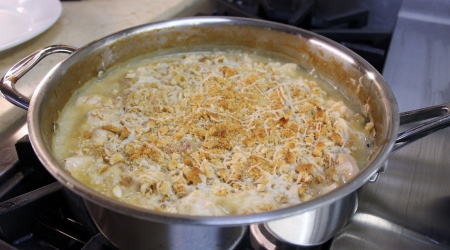 Here's a fun new way to make chicken cordon bleu. Plus it's so easy!!! Serve this ooey-gooey chicken over mashed potatoes or buttered egg noodles. My kids loved this recipe and so did my Dad. Leftovers are great the next day. I'm so glad that I found this recipe in the Raley's grocery store circular.
Ingredients:
3 chicken breasts, boneless, skinless
1 Tablespoon extra virgin olive oil
Freshly ground black pepper, to taste
1/2 cup cooked ham, diced
2 Tablespoons dry sherry
1 (12-oz.) jar chicken gravy
1 1/2 cups shredded Swiss cheese, divided
1/2 cup seasoned croutons, coarsely crushed
Directions:
Preheat oven to 450 degrees F.
Cut chicken breasts into 1 1/2-inch pieces.
In a large oven-proof skillet, heat olive oil over medium high heat.
Add chicken pieces to hot oil in skillet. Season with pepper, to taste.
Cook, stirring frequently, until lightly browned, about 8-10 minutes.
Add sherry to pan and boil 1 minute.
Stir in ham and gravy.
Cook over medium heat 10 minutes, stirring occasionally.
Stir in half the cheese and remove skillet from heat.
Stir remaining cheese into croutons and sprinkle over chicken mixture.
Place skillet into oven and bake 5 to 8 minutes or until topping is crisp and browned.

Related Recipes