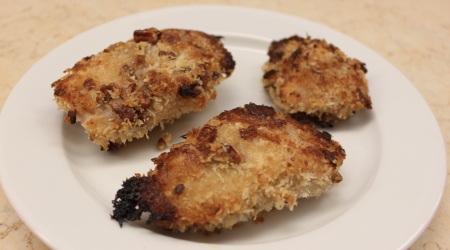 Yet another delicious way to dress up boring chicken breasts! My kids absolutely loved this chicken. Serve it along side sweet potato fries or top a salad with it.  I found this recipe on the Progresso Panko Bread Crumbs box.
Ingredients:
4 boneless skinless chicken breasts (about 1 1/4 lbs.)
1/4 cup pure maple syrup
2 Tablespoons mayonnaise
1/2 cup plain panko bread crumbs
1/2 cup pecans, finely chopped
Extra virgin olive oil, for drizzling
Directions:
Pre heat oven to 400 degrees F.
Line baking sheet with foil and spray with cooking spray.
Between pieces of plastic wrap or waxed paper, place each chicken breast smooth side down.
Gently pound with flat side of meat mallet or rolling pin until about 1/2-inch thick.
In shallow dish, mix together maple syrup and mayonnaise.
In another shallow dish, mix together panko and pecans.
Dip chicken into syrup mixture, then into panko.
Place on baking sheet.
Lightly drizzle tops of chicken with olive oil.
Bake 15 to 20 minutes, turning once, until juice of chicken is clear when center of thickest part is cut (165°F) and coating is golden brown.

Related Recipes