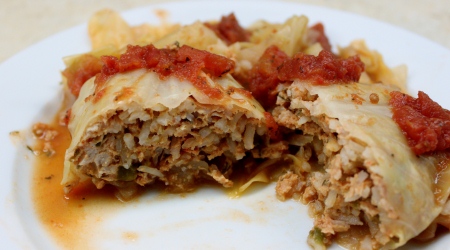 Funny story about cabbage rolls–I actually hate them. Or at least I used to. This was my least favorite meal when I was growing up. I am pretty sure that I have not eaten a cabbage roll since I was 12 years old. However…I received a giant head of cabbage in my Farm Fresh to You box this week and decided to give cabbage rolls another shot. I'm really glad I did! Not only did I love this meal, but my kids and hubby ate it up too. I adapted the recipe from Taste of Home.com. I like this recipe because you don't pre-cook the meat or rice. But because of that it does bake a long time, so plan ahead.
Ingredients:
1 medium head cabbage (3 pounds)
1 lb. ground turkey
1 can (15 oz.) tomato sauce, divided
1 Tablespoon dried minced onion flakes
1/4 cup green bell pepper, diced finely
1/2 cup uncooked long grain brown rice
2 teaspoons dried parsley flakes
1 teaspoon garlic salt
2 teaspoons fresh dill, chopped
1/8 teaspoon cayenne pepper
1 can (14 1/2 oz.) diced tomatoes, undrained
1/2 teaspoon granulated sugar
1 teaspoon dried Italian seasoning
1 teaspoon garlic powder
1 teaspoon onion powder
Directions:
Pre heat oven to 350 degrees F.
Fill a large soup pot 3/4 full with water and bring to a boil.
Cook entire cabbage head in boiling water just until leaves fall off head (about 10-15 minutes).
Once cool to touch, remove 12 large leaves for rolls. Set on paper towels to drain off excess water. Set aside remaining cabbage.
In a bowl, combine ground turkey, 1/2 cup tomato sauce, onion flakes, rice, parsley, salt, dill and cayenne.
Place about 1/4 cup meat mixture on each cabbage leaf. Overlap sides, then ends of leaves. Roll up completely to enclose filling. Secure with a toothpick.
Slice remaining cabbage and place in bottom of a large casserole dish (with lid).
Arrange cabbage rolls seam side down over sliced cabbage.
In a separate bowl, combine the tomatoes, sugar, remaining tomato sauce, Italian seasoning, garlic powder, and onion powder.
Pour over rolls.
Cover and bake 1-1/2 hours or until tender and meat thermometer reads 160°.
To serve, place a cabbage roll on a plate and scoop extra cabbage and tomato sauce on top.

Related Recipes