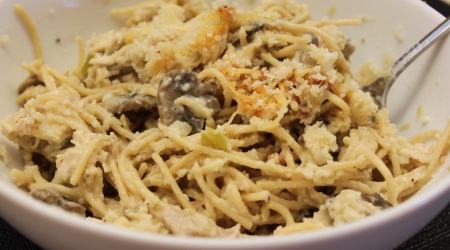 Deeeeelicious comfort food! Thank you Cooking Light magazine for this tasty (yet not completely fat and calorie-heavy) version of an old favorite. My family loves this recipe! Plan to make it a regular around here.
Ingredients:
1 Tablespoon butter
1/2 cup white onion, finely chopped
1/3 cup celery, finely chopped
1 teaspoon freshly ground black pepper
1/2 teaspoon kosher salt
1 (8 oz) package mushrooms, sliced
1/4 cup dry white wine
1/3 cup all-purpose flour
2 3/4 cups chicken broth
1 1/4 cups fresh parmesan cheese, grated and divided
1/4 cup cream cheese
3 1/2 cups hot cooked vermicelli (about 1/2 pound uncooked pasta)
2 cups cooked turkey (or chicken) breast, chopped
3/4 cup Panko breadcrumbs
Directions:
Preheat oven to 350 degrees F.
Melt butter in large saucepan over medium-high heat.
Add onion, celery, pepper, salt, and mushrooms.
Saute 4 minutes or until mushrooms are tender.
Add wine and cook 1 minute.
Lightly spoon flour into a measuring cup and level with a knife.
Gradually add flour to pan and cook 3 minutes, stirring constantly (mixture will be thick) with a whisk.
Gradually add broth, stirring constantly.
Bring to a boil.
Reduce heat and simmer 5 minutes, stirring frequently.
Remove from heat.
Add 1 cup parmesan cheese and cream cheese, stirring with a whisk until cream cheese melts.
Add hot pasta and turkey (or chicken, if using), and stir until blended.
Scoop into baking dish that has been coated with cooking spray.
Combine Panko and remaining 1/4 cup parmesan cheese.
Sprinkle evenly over pasta mixture.
Bake, uncovered, 25- 30 minutes or until lightly browned on top and bubbling on sides.
Remove casserole from oven and let stand 15 minutes before serving.

Related Recipes