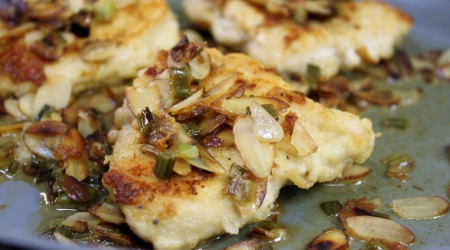 Here's a simple and delicious new way to dress up chicken breasts. This chicken is delicious served over rice with steamed green beans. Oh…and since you'll have the white wine open, go ahead and enjoy a glass with your meal!
Ingredients:
4 small boneless skinless chicken breasts, pounded thin
3/4 cup flour
Garlic salt and freshly ground black pepper, to taste
1 Tablespoon extra virgin olive oil
3/4 cup slivered almonds
1 cup dry white wine
1/4 cup green onions, chopped
2 Tablespoons butter
Directions:
Mix flour with garlic salt and pepper in a shallow plate.
Dredge each chicken breast in flour mixture.
Heat olive oil in a large skillet over medium high heat.
Once oil is hot, place chicken breasts in pan and cook 5 minutes per side, until golden brown and cooked thru.
Remove chicken breasts from pan. Set aside and keep warm.
Add almonds and green onion to pan and saute 3 minutes, stirring often.
Carefully add wine to pan and bring to a boil. Scrape brown bits off bottom of pan.
Cook 4 minutes, until slightly thickened.
Remove from heat.
Stir in butter until butter melts.
Add chicken back to pan and coast with sauce.

Related Recipes