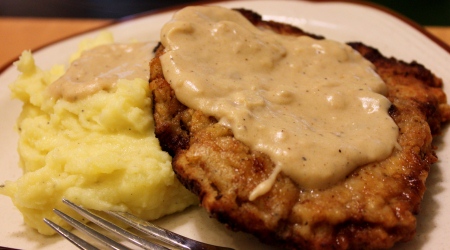 Can you say comfort food?? Well here it is at it's best! I found this recipe on The Pioneer Woman Cook's website and didn't change a thing. It's meat, and potatoes, and gravy. Enough said.
Ingredients:
3 lbs. cube steak (tenderized round steak)
1 1/2 cup whole milk, plus 2 cups for gravy
2 eggs
3 cups all-purpose flour, divided
Lawry's seasoning salt, kosher salt, and freshly ground black pepper, to taste
1/4 teaspoon ground cayenne pepper
1/4 cup canola oil
Directions:
Place 1 1/2 cups milk in a shallow bowl. Whisk in egg. Set aside.
In a separate shallow bowl, whisk Lawry's salt, cayenne, and black pepper into 2 1/2 cups flour. Set aside.
Working with one piece of meat at a time, season both sides with kosher salt and black pepper, to taste.
Then dip meat completely into milk/egg mixture.
Next, place meat in seasoned flour. Turn to coat thoroughly. Shake off excess.
Place meat back into the milk/egg mixture, turning to coat.
Then place back in flour and turn to coat.
Place breaded meat on a clean plate, then repeat with remaining meat.
Heat oil in a large skillet over medium heat.
Once oil is hot, cook meat, three pieces at a time, until edges start to look golden brown (about 3 minutes per side).
Gently remove each piece with tongs and place on a paper towel-lined plate. Keep warm.
Repeat until all meat is cooked.
After all meat is cooked, pour off grease into a heatproof bowl and set aside.
Without cleaning the pan, return to the stove over medium-low heat.
To make gravy, add 1/4 cup grease back to the pan (discard the rest). Allow grease to heat up.
Sprinkle 1/2 cup flour evenly over the grease.
Using a whisk, mix flour with grease, creating a golden-brown paste.
Keep cooking until it reaches a deep golden brown color. (If paste seems more oily than pasty, sprinkle in another Tablespoon of flour and whisk.)
Whisking constantly, pour in 2 cups milk.
Cook to thicken the gravy.  (Add more milk if it becomes overly thick.)
Add kosher salt and pepper and cook for 5 to 10 minutes, until gravy is smooth and thick.
Serve meat with KP Mashed Potatoes, and top with hot gravy.

Related Recipes