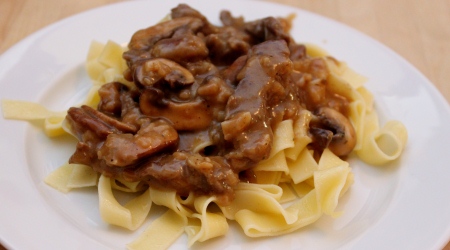 Just tried this recipe from Cooking Light magazine, and loved it! Hope you do too!
Ingredients:
2 cups egg noodles, uncooked
1 lb. top sirloin steak, cut into 3/4-inch pieces
1 Tablespoon butter
1 Tablespoon extra virgin olive oil
1 shallot, finely chopped
8 oz. fresh baby bella mushrooms, sliced
2 cloves fresh garlic, minced
1 Tablespoon soy sauce
3 Tablespoons all-purpose flour
1 1/2 cups low sodium beef broth
Freshly ground black pepper, to taste
1 teaspoon Herbs de Provence
Directions:
Cook noodles according to package directions. Drain and set aside.
While noodles cook, heat olive oil in a large nonstick skillet over medium-high heat.
Add steak and sauté 5 minutes, browning on all sides.
Remove steak from pan and cover.
Melt butter in same pan over medium-high heat.
Add shallots and mushrooms and sauté 4 minutes.
Add garlic and sauté 30 seconds.
Stir in soy sauce.
Sprinkle flour over mushroom mixture and cook 1 minute, stirring constantly.
Gradually add broth, stirring constantly.
Add pepper to taste and Herbs de Provence.
Bring to a boil and cook 2 minutes or until thickened.
Return beef to pan and cook 1 minute or until thoroughly heated.
Serve over cooked egg noodles.

Related Recipes