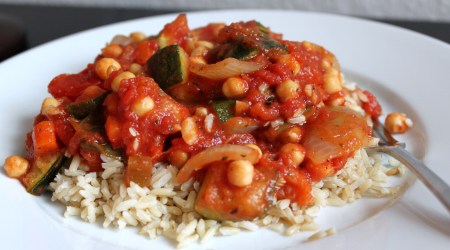 Here's another tasty vegetarian dish that you'll love! I devoured this meal and did not feel guilty at all–it's tons of fresh veggies loaded on top of steamed brown rice. How much healthier can you get?? Found this recipe in Family Circle magazine a few years back and only changed a couple things.
Ingredients:
2 medium zucchini, quartered lengthwise and cut into 1/2-inch pieces
1 large red pepper, cored, seeded and cut into 1/2-inch pieces
1 small white onion, chopped
2 Tablespoons extra virgin olive oil, divided
4 fresh garlic cloves, finely chopped
2 cans (14-1/2 oz.) Italian-seasoned diced tomatoes
1 can (15-1/2 oz.) chickpeas, drained and rinsed
Kosher salt, to taste
1/8 teaspoon black pepper
1/8 teaspoon red pepper flakes
1 teaspoon dried basil
3 cups cooked brown rice
Directions:
Heat oven to 425 degrees F.
Coat baking sheet with nonstick cooking spray.
Add zucchini and red pepper. Toss with 1 Tablespoon olive oil.
Roast 30 minutes or until tender. Remove from oven and set aside.
Heat remaining 1 Tablespoon olive oil in a large nonstick skillet over medium-high heat.
Add onion, and saute 5 minutes.
Add garlic and cook 30 seconds.
Stir in tomatoes and cook 5 minutes, stirring occasionally.
Add roasted zucchini, peppers, chickpeas, salt, pepper, basil, and red pepper flakes.
Cook an additional 5 minutes, stirring occasionally.
Serve over cooked brown rice.

Related Recipes