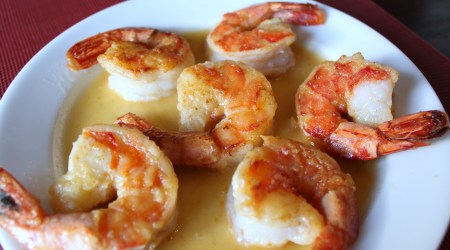 This recipe comes from a "cooking school" that my husband attended years ago in California, as part of a team building day with his office. Since he is not the cook in the family (guess who is???), he promptly passed the recipes on to me and  said "these shrimps are great". They are simple to make and pair well with just about any side dish. I recommend serving them with Baked Risotto with Asparagus and Spinach.
Ingredients:
16 jumbo prawns, raw, with shells and tails on
8 Tablespoons butter, divided
Kosher salt and white pepper, to taste
2 Tablespoons all-purpose flour
2 fresh garlic cloves, minced
1 cup dry white wine
Juice from 1 fresh lemon
1 Tablespoon fresh parsley, chopped
Directions:
Remove shells from prawns, leaving tails on. De-vein and rinse. Pat dry.

Season prawns with salt and pepper to taste.

Place flour in a shallow dish.

Lightly dust each prawn with flour. Shake off excess.

Heat 2 Tablespoons butter in a large sauté pan, over high heat.

Just as butter begins to bubble, add prawns one at a time to pan. Prawns should not touch each other. Cook in batches, as to not over-crown the pan.

Cook over high heat for 2 minutes per side, or until prawns turn bright red and tails curl up.

Remove cooked prawns from pan and set aside to keep warm.

Add garlic to pan and cook 30 seconds.

De-glaze pan by adding wine and lemon juice. Boil 2 minutes over high heat.

Reduce heat to medium. Add parsley to pan.

Finish sauce by swirling in remaining 6 Tablespoons butter. Stir butter until completely combined. Season with additional salt and pepper if desired.

Add prawns back to pan with sauce. Warm 1 minute.

Remove from heat and serve immediately.

Related Recipes