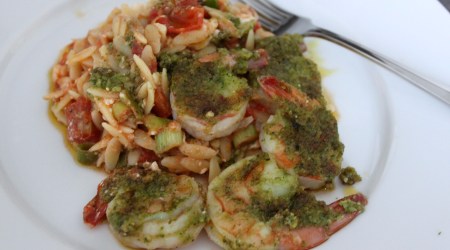 This is a MUST TRY shrimp recipe!!!!  There were no leftovers at my house–even my 3-year old gobbled it up. Takes a bit of prep time, but it's so worth it. Thanks to my friend Lindsey for this yummy recipe!
Ingredients:
1 cup orzo, uncooked
4 teaspoons olive oil, divided
1 cup fresh green onions, chopped
1 can petite diced tomatoes, undrained
6 oz. feta cheese, crumbled
2 Tablespoons fresh lemon juice
2 teaspoons fresh lemon zest
Kosher salt and fresh ground black pepper, to taste
24 large uncooked shrimp with shells
2 Tablespoons Fresh Basil Pesto
Directions:
Pre heat oven to 350 degrees F.
Clean and de-vein shrimp, removing shells. Leave tails on.
Cook orzo in water according to package directions. Drain well and place in large mixing bowl.
Stir in 2 teaspoons olive oil, green onions, tomatoes, feta, lemon juice and lemon zest.
Season with salt and pepper to taste.
Spray large baking dish with Pam cooking spray.
Transfer orzo mixture to large baking dish.
Place uncooked shrimp in a single layer over orzo mixture.
Cover each shrimp individually with a dollop of pesto.
Drizzle remaining 2 teaspoons of olive oil evenly over entire dish.
Bake, uncovered, for 25 minutes (until shrimps are pink and tails are curled).

Related Recipes