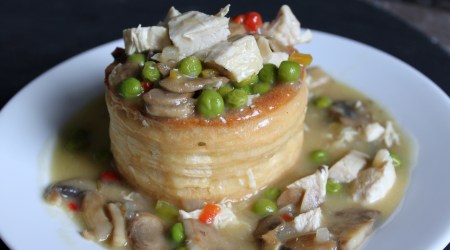 I found these beautiful pastry shells at my local grocery store the other day, and thought "Oh, chicken a' la king would be delish in those!" And guess what? It was! This was my first attempt at making Chicken A' La King (had to Google the spelling 5 times) and it turned out great. It's rich and creamy and has everything in one pot. Serve over pastry shells like pictured if you can find 'em. If not, serve over home-made biscuits or rice. Thanks to RachelRay.com for the recipe.
Ingredients:
1 cup dry white wine
2 cups chicken broth
1 bay leaf
4 boneless, skinless chicken breasts
1 Tablespoon extra virgin olive oil
2 Tablespoons butter
1/2 pound white mushrooms, sliced
1/2 white onion, chopped
2 Tablespoons all-purpose flour
3 Tablespoons chopped pimentos
1 cup frozen green peas
Pastry shells, biscuits, or rice for serving
Directions:
In a medium skillet, bring white wine, chicken broth and bay leaf to a boil.
Slide in chicken breasts and gently poach in simmering broth and wine for 12-15 minutes.
Pre heat a second skillet over medium heat.
Add oil and butter and melt.
Add mushrooms and onions and cook 5 minutes until tender.
Add flour and cook another minute.
Pull chicken from broth and set on cutting board.
Ladle 2 1/2 cups cooking liquid into the mushrooms, whisking it in. (If you need more liquid to equal 2 1/2 cups, add water)
Discard the bay leaf.
Add pimentos and peas to the sauce.
While sauce continues to gently simmer, dice chicken into bite-size pieces then add to the sauce, stirring to combine.
Serve over pastry shell, biscuit or rice.

Related Recipes