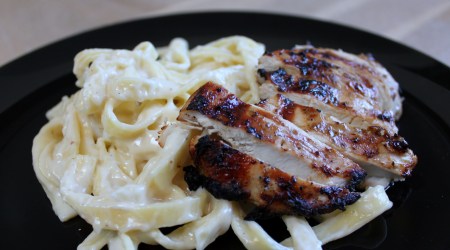 I've tried many Alfredo recipes over the years and never really liked how they turned out, until now. This recipe is the right balance of garlic, cream, and parmesan. It's not too rich and delicious topped with grilled chicken. Serve along side a Mixed Salad with Balsamic Dressing for a great dinner!
Ingredients:
4 boneless, skinless, chicken breasts
1 bottle Italian dressing
1 lb. fresh fettuccine noodles (from refrigerated section of grocery store)
1 Tablespoon butter
2 cloves fresh garlic, minced
3 Tablespoons all-purpose flour
2 cups half-and-half
1/4 teaspoon kosher salt
1/4 teaspoon fresh ground pepper
1/4 teaspoon ground nutmeg
1/2 cup fresh parmesan cheese, shredded
Directions:
Place chicken breasts in a large zip lock bag. Pour Italian dressing on top. Seal to close, pushing out all air.
Refrigerate 5 hours or overnight.
Heat grill to medium high heat. Cook chicken breasts 10 minutes. Turn over and cook additional 10 minutes or until no longer pink on the inside.
Remove chicken from grill and allow to cool 5 minutes. Slice each breast diagonally.
Cook fettuccine according to package directions. Drain. Set aside.
To make Alfredo sauce, melt butter in a medium saucepan over low heat.
Add garlic and cook 1 minute until fragrant.
Whisk in flour.
Whisk in half-and-half until well combined.
Whisk in salt, pepper, and nutmeg.
Raise heat and bring to a boil whisking frequently.
Reduce heat and simmer 5 minutes or until thickened.
Remove from heat and stir in parmesan.
Pour sauce over cooked noodles, top with sliced chicken, and serve immediately.

Related Recipes