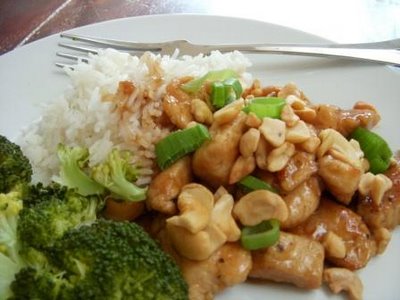 Throw away your Chinese take-out menus–you won't need them after you try this recipe! I discovered this dish in the Everyday Food magazine while living in California, but it became a huge hit with my expat friends in Amsterdam. I like to serve it with white rice and steamed fresh broccoli for a balanced meal.
Ingredients:
1 1/2 lbs boneless, skinless chicken breasts, cut into 1-inch cubes
1 Tablespoon cornstarch
Salt and pepper to taste
2 Tablespoons vegetable oil
6 garlic cloves, minced (this may seem like a lot of garlic, but as my friend Wendi says, "it's never too much garlic!")
1/2 cup green onions, chopped (more for garnish, if desired)
2 Tablespoons rice vinegar (found in most grocery store's Asian aisle)
3 Tablespoons Hoisen sauce (also found in most grocery store's Asian aisle)
1/4 cup water
3/4 cup raw cashew pieces, roasted
Directions:
Toast cashew pieces by spreading them on a baking sheet, and baking in a 350-degree F. oven about 10 minutes (until fragrant). Set aside.
In a medium bowl, toss chicken pieces with cornstarch until chicken is lightly coated. Season with salt and pepper to taste.
In a large nonstick skillet, heat 1 Tablespoon oil over high heat. Cook half the chicken, tossing often until browned, about 3 minutes. Transfer to plate.
Add remaining oil and chicken to skillet, and cook as directed above. (It's important to cook chicken in batches, so the pan isn't crowded. A crowded pan steams food rather than browns it.)
Return first batch of chicken to pan along with garlic and green onions. Cook for 1 minute, tossing continuously.
Add vinegar to pan and cook until evaporated, about 1 minute. (Heat should still be high for cooking. Be sure all the vinegar evaporates.)
Add Hoisen sauce and water. Cook for 2 minutes, tossing continuously. (Mixture should be bubbling.)
Remove from heat and stir in toasted cashews. Serve immediately and sprinkle with additional fresh green onions, if desired.

Related Recipes