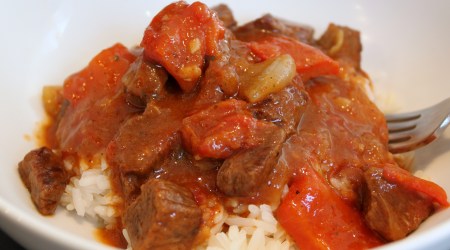 Do you remember Swiss Steak?? I had all but forgotten this simple, comfort-food meal until recently. I had beef chunks in the fridge and wanted to do something different with them, so I tried my hand at a version of Swiss Steak. I remember my Mom making this with actual steak, but I like how the bite-size pieces cook up tender and are easy to scoop up with the sauce. It's excellent served over rice!
Ingredients:
1 1/2 pounds stew beef chunks
1 teaspoon garlic powder
Kosher salt and fresh ground black pepper, to taste
1/2 cup all-purpose flour
2 Tablespoons extra virgin olive oil
3 cloves fresh garlic, minced
1 (14 1/2 ounce) can diced tomatoes
2 cups beef stock
1 1/2 teaspoon Worcestershire sauce
1 medium onion, chopped
1 medium bell pepper, chopped
Directions:
Place garlic powder, flour, salt and pepper in a zip lock bag.
Add meat and shake to coat evenly.
Heat oil in a Dutch oven over medium high heat.
Add meat, in batches (do not over-crowd pan) and brown both sides. About 5 minutes per batch.
Add fresh garlic, tomatoes, onion, bell pepper, Worcestershire and beef stock over steak.
Cover and simmer over low heat 1 hour, stirring occasionally.
Remove lid and continue simmering on low for 30-45 additional minutes, until beef is fork-tender and sauce is thickened.

Related Recipes