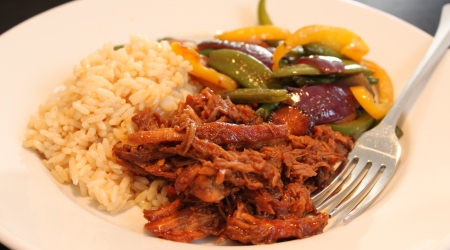 This pork is so tasty!! And takes very little effort to make. Gotta love the slow cooker

Serve with sticky rice and stir-fried veggies for a fantastic Asian meal. My friend Sara shared this recipe with me–thanks Sara!
Ingredients:
1/4 cup soy sauce
1/4 cup hoisin sauce
3 Tablespoons ketchup
3 Tablespoons honey
2 teaspoons fresh garlic, finely minced
2 teaspoons fresh ginger root, peeled and zested
1 teaspoon dark sesame oil
1/2 teaspoon five-spice powder
2 lb. pork roast
1/2 cup chicken stock
Directions:
Whisk together first 8 ingredients (soy sauce thru five-spice powder, Not chicken stock.)
Place pork roast in zip-lock bag and pour in marinade. Squeeze out air and seal.
Marinade 8 hours or overnight.
Place pork roast and marinade in slow cooker.
Cover and cook on low 6-8 hours.
Remove pork from slow cooker and shred with two forks. Cover and keep warm.
Add chicken stock to slow cooker, raise heat to high and bring to a boil.
Cook 30 minutes, until slightly thickened.
Add shredded pork to sauce and heat thru.

Related Recipes