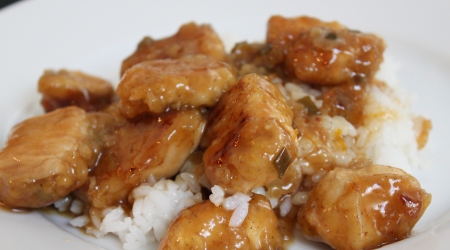 Here's another stir-fry recipe for ya. The Asian food in Denmark leaves much to be desired, so I make all our favorites at home. Like this DELICIOUS orange chicken. It seriously tastes better than take-out! I found the recipe on allrecipes.com and didn't change a thing. Make sure you plan ahead as the chicken marinates for a few hours. But don't skip that step–it makes the dish so flavorful! Serve over hot rice with a side of Toasted Sesame Green Beans.
Ingredients:
1 1/2 cups water
2 Tablespoons fresh orange juice
1/4 cup fresh lemon juice
1/3 cup rice vinegar
2 1/2 Tablespoons soy sauce
1 Tablespoon grated orange zest
1 cup packed brown sugar
1/2 teaspoon fresh ginger root, grated
1/2 teaspoon fresh garlic, minced
2 Tablespoons green onion, chopped
1/4 teaspoon red pepper flakes
3 Tablespoons cornstarch
2 Tablespoons water
4 boneless, skinless chicken breasts, cut into 1/2 inch pieces
1 cup all-purpose flour
1/4 teaspoon kosher salt
1/4 teaspoon fresh ground black pepper
3 Tablespoons extra virgin olive oil
Directions:
Pour 1 1/2 cups water, orange juice, lemon juice, rice vinegar, and soy sauce into medium saucepan over medium-high heat.
Stir in orange zest, brown sugar, ginger, garlic, green onion, and red pepper flakes.
Bring to a boil.
Remove from heat, and cool 15 minutes.
Place chicken pieces in large zip-lock bag. When contents of saucepan have cooled, pour 1 cup of sauce into bag. Seal bag, and refrigerate at least 2 hours.
Reserve remaining sauce and place in fridge.
In another large zip-lock bag, mix flour, salt, and pepper.
Drain marinated chicken pieces really well, and discard marinade.
Add chicken pieces to bag with flour, seal the bag, and shake to coat.
Heat olive oil in large skillet over medium heat.
Place half the chicken into skillet, and brown on both sides, about 8 minutes total. (Do not over-crowd pieces in skillet or chicken will steam, not brown. Also, do not stir too much as breading is delicate.)
Remove chicken from skillet and keep warm.
Carefully wipe excess oil from skillet using paper towel.
Add sauce to skillet and bring to a boil over medium-high heat.
Mix together cornstarch and 2 tablespoons water. Stir into sauce.
Reduce heat to medium low, add chicken pieces, and simmer about 5 minutes.
Gently stir once or twice, but do not over-stir or breading will fall from chicken pieces.
Serve over hot rice, if ya like.

Related Recipes