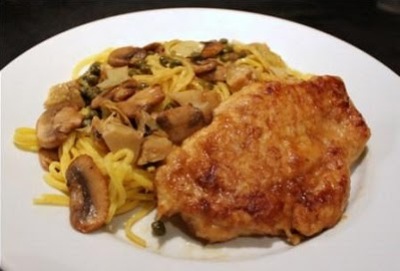 Here's my version of a classic Italian dish that's full of flavor and fairly easy to put together. The combo of white wine, fresh lemon, and garlic adds a level of sophistication that proves company-worthy. Serve over angel hair pasta and you've got a complete meal!
Ingredients:
Kosher salt and freshly ground black pepper, to taste
4 boneless, skinless chicken breasts
4 Tablespoons extra virgin olive oil, divided
1 Tablespoon butter
10 button mushrooms, cleaned and sliced
3 cloves fresh garlic, minced
2/3 cup white wine
1/3 cup fresh lemon juice (do not use bottled)
1 cup chicken stock
1 jar artichoke hearts marinated in oil, well drained and diced
2 Tablespoons capers
Angel hair pasta for serving
Directions:
In a shallow dish, whisk together flour, paprika, salt and pepper. Set aside.
Using a meat tenderizer, pound each chicken breast until thin.
Dredge each thin breast with flour mixture on both sides. Shake off excess.
In a large non-stick skillet, heat 2 Tablespoons olive oil over medium heat.
Place each coated chicken breast in hot oil, and saute 3 minutes per side, or until lightly golden brown. (Do not over crowd skillet–breasts should not touch. Cook in batches if need be.)
Remove cooked chicken from skillet and set aside.
To hot skillet add remaining 2 Tablespoons olive oil, butter and mushrooms. Saute 5 minutes until tender.
Add garlic to skillet and saute 1 minute, until fragrant.
Increase heat to high and add wine to skillet. Bring to a boil and scrape bits off bottom of skillet.
Add chicken stock and lemon juice to skillet. Simmer on high heat until reduced by half.
Add artichoke hearts and capers to sauce.
Add browned chicken back to skillet and simmer additional 5 minutes, or until cooked through.
Serve chicken and sauce over angle hair pasta, if desired.

Related Recipes