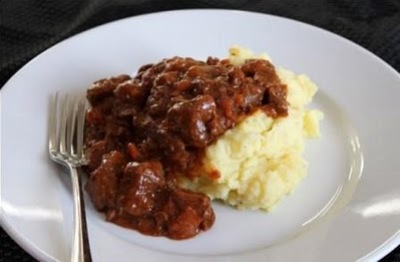 This traditional French dish is typically served over egg noodles–but I like to "Americanize" it by serving it over mashed potatoes. (Think of it as fancy beef stew.) The flavors are incredible and because the beef cooks slowly in wine, it's so tender it falls off your fork. This is a great Sunday dinner for family and friends! This recipe comes from Cooking Light magazine, though I've tweaked it a bit.
Ingredients:
1/3 cup all-purpose flour
2 teaspoons kosher salt, divided
Fresh ground black pepper, to taste
2 1/4 pounds beef stew meat, cut into 1-inch cubes
4 bacon slices, chopped and divided
1 cup onion, chopped
1 cup carrots, sliced
4 fresh garlic cloves, minced
1 1/2 cups dry red wine
2 cups beef broth
4 cups button mushrooms, halved
3 Tablespoons tomato paste
2 teaspoons fresh thyme, chopped
2 bay leaves
2 cups frozen pearl onions
Mashed potatoes for serving
Directions:
Combine flour, 1 teaspoon salt, and black pepper to taste in a large zip-top plastic bag. Add beef, seal, and shake to coat.
Cook half the bacon in a large Dutch oven over medium-high heat until crisp. Remove bacon from pan with a slotted spoon and set aside.
Add half the beef mixture to drippings in pan and cook 5 minutes, browning on all sides. Remove beef from pan, cover, and keep warm.
Repeat procedure with remaining bacon and beef. Remove beef from pan, cover, and keep warm.
Add chopped onion, sliced carrot, and minced garlic to pan. Saute 5 minutes.
Stir in red wine and broth, scraping pan to loosen browned bits.
Add bacon, beef, remaining 1 teaspoon salt, additional black pepper to taste, mushrooms, tomato paste, chopped thyme, bay leaves, and pearl onions.
Bring to a boil. Cover, reduce heat, and simmer 45 minutes.
Uncover and simmer 1 hour or until beef is tender.
Discard bay leaves.
Serve beef mixture over mashed potatoes.

Related Recipes