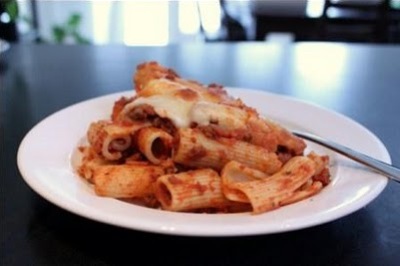 Here's a two-part recipe that takes some time, but is well worth it. Skip the frozen lasagna and try this fresh, delicious, home-made cheesy pasta bake! This recipe makes a lot, so it's a good one for company. And it's a KP original

Ingredients for meat sauce:
1 Tablespoon extra virgin olive oil
1 small yellow onion, diced
4 fresh garlic cloves, minced
1 lb. ground beef
2 (15 oz.) cans diced tomatoes w/basil
2 (15 oz.) cans crushed tomatoes
2 (6 oz.) tomato paste
1 cup chicken broth
3 heaping teaspoons basil pesto, prepared
1 teaspoon dried oregano
1 pinch granulated sugar
Garlic salt and fresh ground black pepper, to taste
1/4 cup heavy cream
Directions for meat sauce:
In a large soup pot, heat olive oil over medium high heat.
Add diced onion and saute until soft, about 5 minutes.
Add garlic and saute 1 minute, until fragrant.
Add ground beef and stirring frequently, cook until no longer pink, about 8-10 minutes.
Push cooked meat to one side of pot and using a turkey baster, drain fat.
Return to heat and add in remaining ingredients (except cream).
Bring to a boil, then cover and reduce heat.
Simmer 1 hour to marry flavors, stirring occasionally.
Remove from heat.
Add heavy cream and stir to combine.
Ingredients for baked ziti:
Meat sauce from above
1 (16 oz.) package ziti pasta, cooked al dente and drained
2 cups mozzarella cheese, shredded
1 cup freshly grated parmesan cheese
Directions for baked ziti:
Pre heat oven to 350 degrees F.
Spray 9 x 13-inch baking dish with Pam cooking spray. Set aside.
Stir 1 cup meat sauce into cooked ziti noodles.
Spoon 1 cup meat sauce into baking dish.
Spoon half the ziti mixture into baking dish.
Sprinkle 1 1/2 cup mozzarella plus 1/2 cup parmesan cheese on top ziti.
Top with 2 cups of meat sauce.
Add remaining ziti mixture on top.
Top with remaining sauce.
Cover tightly with aluminum foil and bake 25 minutes.
Remove from oven and take off tin foil. Discard tin foil.
Top with remaining mozzarella and parmesan cheese.
Return to oven, uncovered, and bake additional 15 minutes, or until cheese has melted.
Let set 5 minutes before serving.

Related Recipes