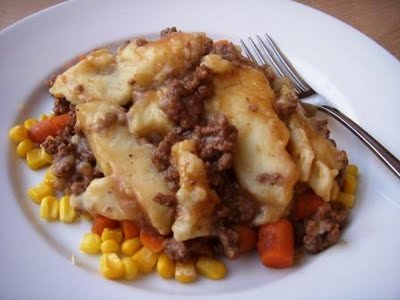 Nothing says comfort food quite like Shepherd's pie. It's the ultimate all-in-one meal, with veggies, beef, mash potatoes and gravy all baked together. I've seen this dish served several different ways in England and Ireland, but the basics remain the same. This recipe is how I've always made it, and it's a family favorite!
Ingredients:
1 lb. lean ground beef
1/2 cup diced onion
2 cups mashed potatoes, cooked
12 oz. jar Heinz Homestyle Beef gravy
1 cup frozen corn, thawed
1 cup cooked carrots, diced
Garlic salt and fresh ground black pepper, to taste
Directions:
Pre heat oven to 350 degrees F.
Spray a 2 1/2 quart round baking dish with Pam cooking spray. Set aside.
In a large non-stick skillet, cook ground beef and onions over medium heat for 10 minutes, or until beef is no longer pink. Drain fat. Season with garlic salt and black pepper to taste.
Place corn and carrots in prepared baking dish.
Layer cooked beef and onions on top of carrots and corn.
Layer gravy on top of beef.
Spread cooked mashed potatoes evenly over gravy, covering gravy completely.
Cover and bake 25-30 minutes, or until bubbly and hot through.

Related Recipes