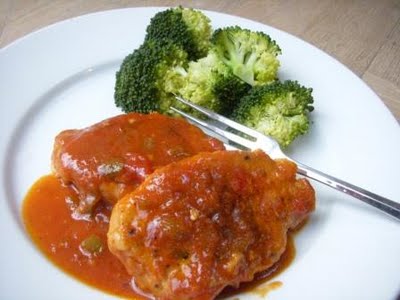 This dish packs in the flavor and is super easy to make! It may seem like an unusual combo of ingredients, but once the OJ, salsa, and spices simmer together, it's delicious! Serve with fresh steamed broccoli and rice to soak up all the sauce. I found this recipe on Kraftfoods.com, but changed a few things (like adding fresh garlic, of course!)
Ingredients:
4 boneless, thick-cut pork chops
1 teaspoon extra virgin olive oil
1 Tablespoon butter
Kosher salt and fresh ground black pepper to taste
2 cloves fresh garlic, minced
2/3 cup store bought salsa of your choice (choose hot salsa if you want a spicy dish)
1 cup orange juice
2 Tablespoons packed brown sugar
1/4 teaspoon ground cumin
1 teaspoon fresh ginger, minced
Directions:
Heat olive oil and melt butter in large non-stick skillet, over medium-high heat.
Salt and pepper both sides of pork chops, to taste.
Place pork chops in hot skillet and brown 3-5 minutes PER SIDE. (Remember–for a nice crusty edge, don't let chops touch in pan, and don't move them until they're ready to be flipped.)
After browning chops, add garlic to skillet and cook 1 minute, stirring often.
In a bowl, whisk together salsa, orange juice, brown sugar, cumin, and ginger.
Add sauce to skillet with pork chops and bring to a boil.
Cover skillet, reduce heat, and simmer 35 minutes.
Remove lid and return heat to medium-high.
Boil sauce until reduced by half and thickened, about 10 minutes.
Serve chops with sauce on top.

Related Recipes