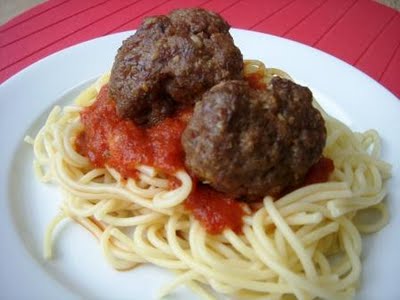 These meatballs are delicious! Just the right balance of spices, beef, and breadcrumbs. I make these to serve with spaghetti sauce and pasta. Though they'd also be good served with mash potatoes and brown gravy. Because these meatballs are baked and not fried, they're lower in fat than most meatballs. An added bonus!
Ingredients:
1 1/2 pounds ground beef
1/4 cup fresh Parmesan cheese, shredded
1/2 cup Progresso Italian style bread crumbs
1/4 cup tomato sauce
1 teaspoon dry mustard
3/4 teaspoon dried Italian seasoning
1/4 teaspoon crushed red pepper
Garlic salt and fresh ground black pepper, to taste
Directions:
Pre heat oven to 400 degrees F.
Add all ingredients to a large bowl, and using your hands, mix well.
Shape mixture into 10-15 evenly sized meatballs.
Spray cookie sheet with Pam cooking spray and place meatballs on sheet. Do not allow meatballs to touch on sheet or they will steam rather than brown.
Bake 8 minutes, then remove from oven to turn over each meatball.
Return to oven and bake additional 7-10 minutes, or until cooked through.

Related Recipes