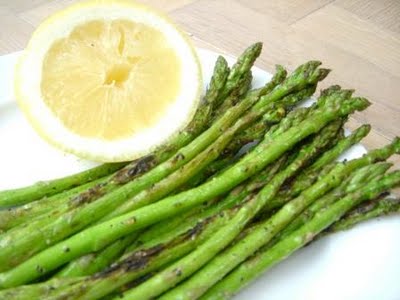 Buy a bunch of fresh summer asparagus and fire up the grill for this super tasty and super fast recipe! Serve with grilled steak and green salad for an incredible summer meal!
Ingredients:
1 bunch fresh asparagus (Look for bright green thin spears–these are best for grilling.)
Extra Virgin Olive Oil
Garlic salt
Fresh ground black pepper
1/2 fresh lemon
Directions:
Heat grill to medium-low heat.
Hold each asparagus spear in your hands and snap off the tough bottom. Snap where the spear naturally gives.
Rinse asparagus spears in cold water and pat dry with paper towel.
Lay spears on a shallow plate and lightly drizzle with olive oil.
Sprinkle with garlic salt and black pepper to taste.
Using tongs, arrange asparagus spears in a single layer on hot grill. (Be careful they don't slip thru the grill grates!)
Grill 3-5 minutes, depending on thickness of spears.
Using tongs, turn over spears and grill an additional 2 minutes, or until lightly charred.
Remove from grill and put on clean plate. Squeeze 1/2 fresh lemon over grilled asparagus spears and serve immediately.
Nfn0n?w"Georgia","serif";mso-fareast-font-family: "Times New Roman";mso-bidi-font-family:"Times New Roman"'>Place 3 or 4 breaded pork chop into hot oil in pan and cook 5 minutes. (Do not over-crowd pan.)
Turn each pork chop over and cook additional 5 minutes, until golden brown. (Add more oil to pan as needed.)
If cooking in batches, wipe skillet clean after each batch.

Related Recipes