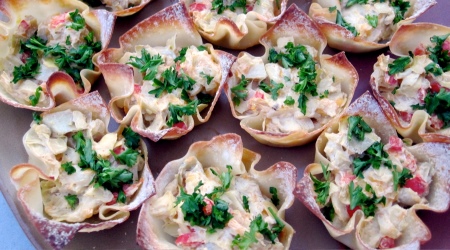 OMG–here's my favorite new appetizer! These were a big hit at my last party and disappeared as fast as I took them from the oven. They whip up in a snap and look way fancier than they are. Thanks to Weightwatchers.com for the recipe.
Ingredients:
Cooking spray
16 wonton wrappers
1/4 cup shredded Parmesan cheese
4 Tablespoons cream cheese, softened
1/4 teaspoon cayenne pepper
1/2 Tablespoon Dijon mustard
2 Tablespoons roasted red peppers, chopped
1 (7 oz.) can artichoke hearts without oil, drained and chopped
1/4 cup fresh parsley

Directions:
Pre heat oven to 350 degrees F.
Coat a 16-hole miniature muffin pan with cooking spray.
Gently press 1 wonton wrapper into each muffin hole, allowing ends to extend above cups.
Coat edges of wrappers with cooking spray and set aside.
Combine cheeses, cayenne pepper and mustard in a medium bowl. Mix well.
Stir in red pepper and artichoke hearts.
Spoon about 1 teaspoon of cheese mixture into each muffin cup.
Bake until cheese mixture is set and edges of wrappers are lightly browned, about 15 minutes.
Garnish with parsley and serve warm.

Related Recipes