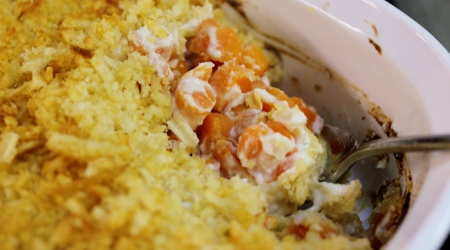 So, I have a new favorite place–Penzey's Spices. This little shop is amazing! (http://www.penzeys.com/) I want to live there. Check online to see if there's a store near you. Then go there. And bring lots of money, 'cause you'll be buying so many fun and fabulous spices!! They also publish a newsletter with recipes from customers. And that's where I snagged this INCREDIBLE carrot casserole recipe. I ate this entire dish myself–over the course of a few days–but still, I did not share one drop. Try this for a Thanksgiving side dish–or any occasion that you're serving a large platter of meat. That's assuming you'll share any of it

IT'S SO GOOD!
Ingredients:
1 1/2 lbs. fresh carrots, peeled and sliced
2 Tablespoons fresh chopped white onion
3/4 cup regular mayo (not light)
2 Tablespoons prepared horseradish
Salt and freshly ground pepper, to taste
3/4 cup crushed potato chips
Directions:
Pre heat oven to 350 degrees F.
Place sliced carrots in a large saucepan and cover with water.
Bring to a boil and cook carrots until just tender, about 10 minutes. Drain.
Place cooked carrots in a 1-quart baking dish, that's been coated with Pam cooking spray.
In a separate small bowl, combine mayo, onion, horseradish, salt and pepper. Mix well.
Spoon mayo mixture evenly over carrots.
Sprinkle chips on top.
Bake, uncovered,  for 20-25 minutes, or until heated thru.

Related Recipes