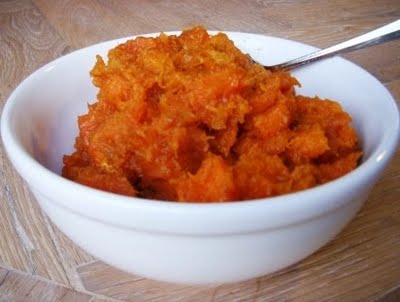 Grab fresh sweet potatoes from your market while they're in season. Then try this simple yet delicious way to roast them. Roasting brings out all the natural sweetness of the potatoes. Serve along side pork, chicken or beef.
Ingredients:
2 large sweet potatoes, peeled and cut into 1-inch cubes
1 Tablespoon extra virgin olive oil
1 Tablespoon butter
1 Tablespoon brown sugar, packed
Kosher salt, to taste
Directions:
Pre heat oven to 400 degrees F.
Place sweet potatoes on cookie sheet. Cover with olive oil and mix to coat.
Roast in oven 15 minutes. Remove and stir.
Continue roasting another 5 minutes, or until fork tender.
Remove from oven and immediately place in serving dish.
Add butter and brown sugar to potatoes and gently mash with a fork, to desired consistency. Season with kosher salt to taste.
Serve hot.

Related Recipes