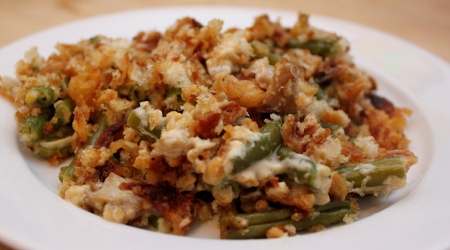 WAIT! Don't think this recipe is for the usual canned soup with canned green bean casserole. It's sooooo not! This recipe is for a home-made version of green bean casserole using fresh green beans and an incredible mushroom cream sauce that you make yourself. I found it on Cooks Illustrated.com, and it's unbelievably good! Make this casserole and I guarantee it will be completely eaten with not a crumb leftover. Not like the canned version that everyone makes, but no one eats. Am I right??? Seriously, you gotta make this dish!!
Ingredients:
1 pound fresh green beans, ends snapped, cut into bite-size pieces
8 oz. fresh mushrooms, cleaned and sliced
1 Tablespoon butter
3 fresh garlic cloves, minced
1 1/2 Tablespoons all-purpose flour
3/4 cup chicken stock
1 Tablespoon dry sherry
3/4 cup heavy cream
1 slice whole grain bread, torn into pieces
1 Tablespoon butter
1 cup French fried onions
Directions:
Pre heat oven to 400 degrees F.
Bring 8 cups water to boil in a large pot.
Add pinch of salt and beans to the boiling water.
Cover and cook 6 minutes or until crisp-tender and still bright green.
Drain beans in a colander, then plunge into ice water to stop cooking.
Drain in colander again. Set aside to dry.
Melt butter in a deep-sided skillet.
Add mushrooms, garlic, and a generous amount of salt and pepper.
Cook mushrooms on medium heat, stirring often, until they begin to soften, about 6 minutes.
Stir in flour and cook 1 minute.
Add chicken stock and sherry and bring to a simmer.
Add cream and simmer on low until sauce thickens, about 10 minutes.
Stir in cooked beans until evenly distributed throughout the sauce.
Transfer hot bean mixture to baking dish sprayed with Pam cooking spray.
In a food processor, pulse bread with butter, salt and pepper until crumbly. Stir in onions–but don't process.
Top beans with onion topping mixture and bake uncovered for 20 minutes, until heated thru, bubbly on sides, and browned on top.
Serve right away.

Related Recipes