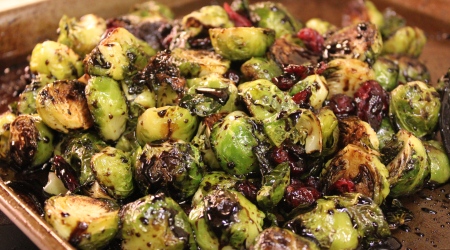 Here's a sweet and delicious way to dress up those boring brussels sprouts! This side dish is company-worthy and pairs well with chicken, beef, and pork. Thanks to the Pioneer Woman Cooks for this recipe.
Ingredients
1 1/2 lbs. fresh brussels sprouts
1/4 cup extra virgin olive oil
Kosher salt and freshly ground black pepper, to taste
1/2 cup balsamic vinegar
1/4 cup granulated sugar
1/2 cup dried cranberries
Directions:
Pre heat oven to 375 degrees F.
Trim and clean brussels sprouts. Cut in half.
Arrange brussels sprouts in a single layer on a baking sheets and toss with olive oil.
Sprinkle with salt and pepper to taste.
Roast 25 to 30 minutes, or until golden brown.
Combine balsamic vinegar and sugar in a saucepan.
Bring to a boil, then reduce heat to medium-low.
Cook, stirring often, until reduced and very thick, about 15 to 20 minutes.
Drizzle balsamic reduction over roasted sprouts, then sprinkle on dried cranberries.
Toss and serve immediately.

Related Recipes