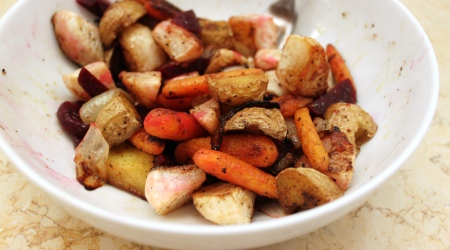 Wanna know the best way to cook root veggies?? Roast 'em! It makes them so incredibly sweet and perfectly cooked. The veggies roast until they are crispy on the outside while tender and chewy inside. Serve these with just about anything–turkey, chicken, beef, salmon, or tossed into a salad.
Ingredients:
1 large sweet onion, peeled, chopped into 1-inch pieces
3 medium beets, peeled, stems removed, chopped into 1-inch pieces
2 parsnips, peeled, chopped into 1-inch pieces
3 carrots, peeled, chopped into 1-inch pieces
10 fingerling potatoes, washed and halved
1 Tablespoon extra virgin olive oil
Kosher salt and freshly ground black pepper, to taste
Directions:
Pre heat oven to 400 degrees F.
Place olive oil and all chopped veggies onto a large rimmed baking sheet.
Toss with salt and pepper to evenly coat.
Roast 15 minutes.
Remove from oven and toss using a metal spatula.
Return to oven and continue roasting another 10  minutes, until browned on the outside and tender on the inside.

Related Recipes