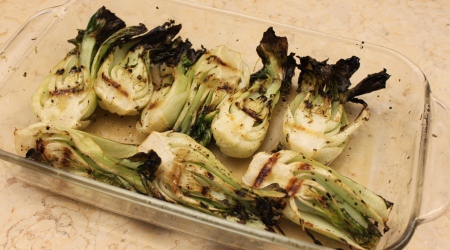 In general I find bok choy utterly tasteless. I really don't understand it's appeal (taste-wise that is). Health-wise is another story. This little veggie is a low-calorie, zero-fat food that also has lots of vitamin A, vitamin C and vitamin K. Plus, you'll get healthy levels of folate and vitamin B6. So many reasons to add it to your diet! And thanks to this recipe from www.DadCookDinner.com it's now tasty too!!
Ingredients:
6 heads baby bok choy (about 1 1/4 lbs)
1 teaspoon kosher salt
Juice of 2 limes (about 1/3 cup)
zest of 2 limes
2 teaspoons sugar
1 teaspoon dried basil
1 teaspoon minced garlic
pinch of kosher salt
1/2 teaspoon freshly ground black pepper
1/3 cup extra virgin olive oil
Directions:
Split each bok choy in half, and trim large leaves from top.
Soak bok choy in a few changes of water in a salad spinner, then spin dry.
Sprinkle dried bok choy heads with 1 teaspoon kosher salt.
To make marinade, whisk together remaining ingredients in a large bowl.
Toss marinade with bok choy. Let bok choy rest in marinade, tossing occasionally, until ready to grill.
Preheat grill on high 15 minutes, then turn burners to medium-low.
Remove bok choy from marinade, letting any excess drip back into the bowl. Keep marinade.
Place bok choy over medium-low heat, starting it cut side down.
Grill six minutes, or until bok choy has nicely browned grill marks.
Flip the bok choy, then grill another 6 to 8 minutes, or until the bok choy is crisp-tender. (It will give just a little resistance when poked with a paring knife.)
Place grilled bok choy back into marinade and toss to coat.
Allow to rest in bowl until ready to serve, letting the bok choy soak up the marinade. Toss one last time before serving.

Related Recipes