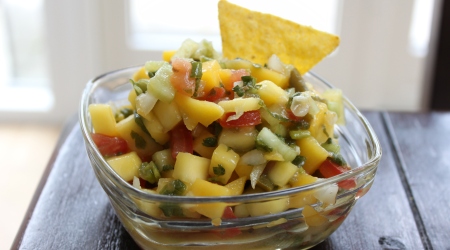 This salsa tastes like summer in a bowl! If you haven't tried fruit salsa before, give it a try now. It's fresh, sweet, and spicy, and great on salty tortilla chips. Serve poolside with an icy frozen margarita (OK, now I'm just daydreaming…) Thanks to my friend Lindsey for this recipe–I added a few touches to make it my own.
Ingredients:
3 fresh mangoes, peeled, pitted and diced (be sure the mangoes are ripe!)
1 cup cup fresh red onion, diced
4 fresh green onions, chopped
1 cup fresh cucumber, diced
2 large fresh tomatoes, diced
1 fresh jalapeno chili, seeded with ribs removed, finely minced
1 cup fresh cilantro, chopped
Juice of 1 large lemon
Juice of 1 lime
2 Tablespoons extra virgin olive oil
1 teaspoon kosher salt
Directions:
In a medium bowl, combine mango, red onion, green onion, cucumber, tomato, jalapeno and cilantro.
In a measuring cup, whisk together lemon juice, lime juice, olive oil and salt. Stir until salt dissolves.
Pour over mango mixture.
Stir gently to combine.
Cover and refrigerate overnight to allow flavors to meld.
Remove from refrigerator about 1 hour before serving. Serve at room temperature with tortilla chips.

Related Recipes