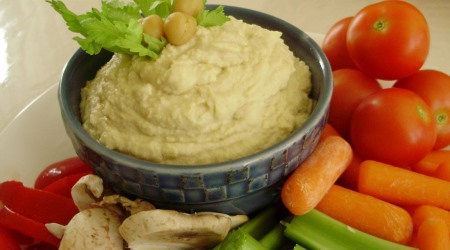 Home-made hummus is soooo much better than store bought! And it's not as much work as you may think. Make a big batch and it will last all week. Enjoy it with pita chips and fresh veggies for a delicious snack. Or spread it on toasted pita, layered with feta cheese, tomatoes and fresh spinach leaves for an incredible vegetarian sandwich.
Ingredients:
2 (19-oz.) cans garbanzo beans, drained (reserving 1 cup liquid)
2 Tablespoons tahini (sesame-seed paste)
4 fresh garlic cloves
1/2 cup fresh lemon juice
1 Tablespoon ground cumin
1 teaspoon Kosher salt
2 Tablespoons extra virgin olive oil (good quality)
Directions:
Place all ingredients, except olive oil, in a food processor and turn on.
Drizzle olive oil into mixture as it processes.
Add reserved garbanzo bean liquid until desired consistency.
Process until smooth, scraping sides occasionally.
Serve right away, or refrigerate 1 hour to chill.

Related Recipes