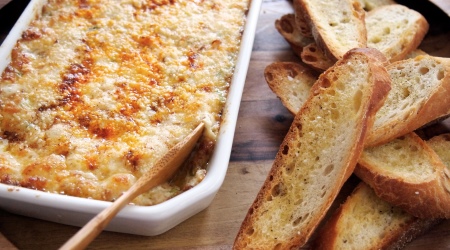 This dip is da bomb! I made it for a friend's party last night and people loved it. After I tasted the first batch, I knew I needed to double the recipe. Glad I did too, because it was G-O-N-E!
Ingredients:
3 Tablespoons unsalted butter, divided
2 medium shallots, minced
1/4 teaspoon cayenne pepper
3/4 teaspoon Old Bay seasoning
1 1/2 teaspoon dry mustard
3/4 cup half-and-half
8 oz. cream cheese, cut into small pieces
4 oz. sharp white cheddar cheese, grated (about 1 3/4 cups)
3 Tablespoons freshly squeezed lemon juice
2 teaspoons Worcestershire sauce
10 oz. lump crabmeat (not imitation!)
1/2 cup fresh flat-leaf parsley, chopped
2 slices white bread, crusts removed, torn into 1/4-inch pieces
1/2 teaspoon smoked paprika
Toasted baguette slices, for serving
Directions:
Preheat oven to 400 degrees F. with rack in the center.
Butter an ovenproof baking dish. Set aside.
Melt 2 Tablespoons butter in a medium saucepan over medium heat.
Add shallots and cook until soft, about 2 minutes.
Add 1 Tablespoon water and simmer for 30 seconds.
Stir in the cayenne, Old Bay, and dry mustard until well combined.
Pour half-and-half into saucepan and bring to a simmer.
Slowly whisk in cream cheese, a few pieces at a time.
When the cream cheese is fully incorporated, whisk in the cheddar cheese, a handful at a time.
Stir the mixture for 2 minutes.
Remove from heat.
Add lemon juice and Worcestershire sauce; stir to combine.
Stir in crabmeat and half of the parsley.
Transfer mixture to baking dish and sprinkle with bread pieces.
Dot top of bread pieces with remaining tablespoons butter; sprinkle with paprika.
Bake until bread pieces are golden and dip is hot, 18 to 22 minutes.
Garnish with remaining 1/4 cup parsley and serve with toasted baguette slices.

Related Recipes