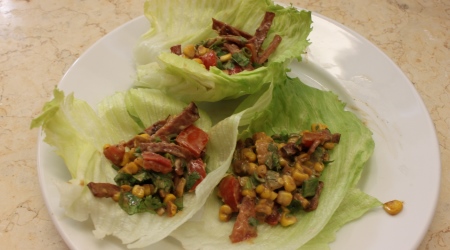 I'm on a salad kick lately–who's with me?? To keep things interesting, tonight I made lettuce wraps instead of a big 'ol bowl of salad. The kids loved it, and so did I! This recipe is soooo good. With the addition of fresh corn, cilantro, and lime, it's a step up from boring BLTs. Thanks to Self Magazine for the recipe.
Ingredients:
4 slices bacon
2 ears of fresh corn, cut off the cob
1/4 cup fresh cilantro
1 cup cherry tomatoes, diced
1/4 cup green onions, chopped
1 fresh jalapeno, seeded and minced
2 Tablespoons mayo
Juice of 1 fresh lime
Kosher salt and freshly ground black pepper, to taste
Fresh lettuce leaves
Directions:
In a medium skillet, cook bacon until crispy. Discard all of the bacon grease except for 1 Tablespoon. Crumble and set bacon aside.
Add corn kernels to skillet and cook 5 minutes until just tender.
Toss together remaining ingredients, including stirring in mayo and lime juice.
Season with salt and pepper.
Scoop into lettuce cups and serve.

Related Recipes