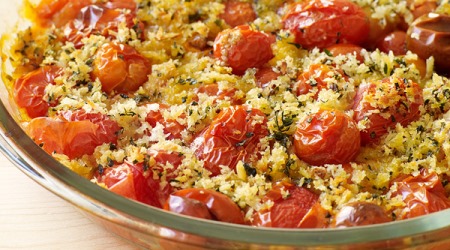 I could eat the entire pan of this in one sitting. It's sooooo good. Healthy too. Thanks to WeightWatchers.com for the recipe.
Ingredients:
3 cups fresh grape tomatoes
1 Tablespoon extra virgin olive oil, divided
1/4 teaspoon kosher salt
1/4 teaspoon black pepper, freshly ground, divided
1/3 cup panko breadcrumbs
2 teaspoons fresh oregano, chopped
1 teaspoons fresh thyme, chopped
1/2 teaspoon fresh minced garlic
Directions:
Preheat oven to 400 degrees F.
In a 9-inch glass pie plate, combine tomatoes, 1/2 Tablespoon olive oil, salt and 1/8 teaspoon pepper.
Toss to coat and then spread into a single layer.
In a small bowl, combine breadcrumbs, oregano, thyme, garlic, remaining 1/2 Tablespoon olive oil and remaining 1/8 teaspoon pepper.
Rub oil into breadcrumbs with your fingers.
Sprinkle breadcrumb mixture evenly over tomatoes.
Bake until breadcrumbs are golden and tomato juices are bubbling around edges, about 30 to 35 minutes.

Related Recipes