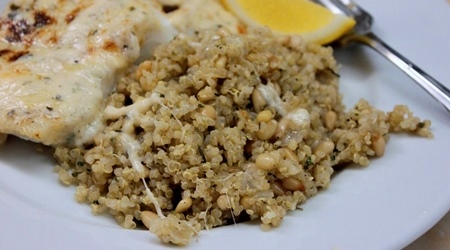 Yep, I'm jumping on the quinoa bandwagon. Know why? Cause it's tasty, that's why! Oh yeah, and super healthy too. This is my favorite way to serve it so far.
Ingredients:
1/2 cup uncooked quinoa
1 cup chicken broth
2 teaspoons extra virgin olive oil
1/2 yellow onion, diced
2 Tablespoons pine nuts, toasted
2 Tablespoons fresh parsley, chopped
Directions:
Bring quinoa and broth to a boil in a medium saucepan.
Reduce heat to low and cover.
Simmer until quinoa absorbs liquid, about 15 minutes.
Heat oil in a large skillet over medium-high heat.
Add onion and cook, stirring occasionally, until onion begins to brown, about 6 minutes.
When quinoa is done, fluff with a fork and transfer to a serving bowl.
Stir in onion, pine nuts and parsley.
Season with salt and pepper.

Related Recipes