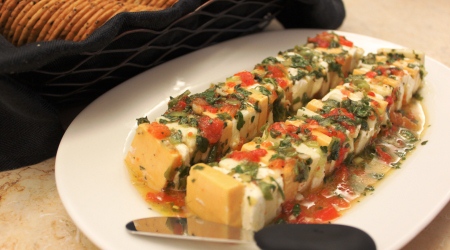 I first ate this appetizer at a Southern Living holiday party 10 years ago (very festive with the red and green, yes?) And I've never forgotten it–it was that good! Well, I FINALLY got around to making it for a party that I hosted recently. And it was the hit of the party!!! It's a bit time consuming to prepare, but once you pop it in the fridge to marinate, you're done. I used my food processor to finely mince all the herbs. Also, make sure the cream cheese is really chilled, or it's a mess to slice. Now go send an evite for a party so you can make this!!!
Ingredients:
1/2 cup extra virgin olive oil
1/4 cup white wine vinegar
Juice from 2 fresh limes
3 Tablespoons green onion, minced
3 Tablespoons cilantro, minced
3 Tablespoons fresh parsley, minced
3 cloves garlic, minced
2 Tablespoons jarred roasted red pepper, minced
1  teaspoons granulated sugar
1/2 teaspoon kosher salt
1/2 teaspoon freshly ground pepper
1 (8-oz.) block Monterey Jack cheese, chilled
1 (8-oz.) block extra sharp cheddar cheese, chilled
1 (8-oz.) package cream cheese, very chilled
Assorted crackers and flat-bread for serving
Directions:
Whisk together oil, vinegar, and lime juice.
Stir in next 8 ingredients (green onion thru pepper). Set aside.
Cut Monterey Jack cheese in half lengthwise. Cut each half crosswise into 1/4-inch-thick slices.
Repeat slicing the same way with sharp cheddar cheese and cream cheese (note: the cream cheese needs to be really cold in order to slice easily).
Arrange cheese in 4 rows in a shallow 2-qt. baking dish, alternating Monterey Jack cheese, Cheddar cheese, and cream cheese.
Pour marinade over cheese.
Cover and chill at least 8 hours, or overnight.
Drain most of the marinade, then arrange cheese on a platter in rows. Top with the bit of marinade you reserved.
Serve with assorted crackers and flat-bread.

Related Recipes