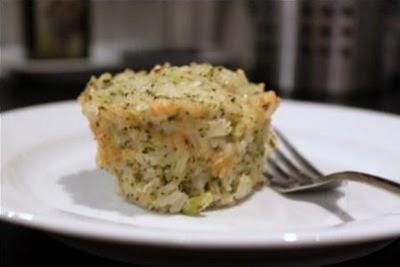 Here's a fun idea for a kid-friendly side dish (that grown-ups will like as well!) The ranch dressing gives these broccoli rice cups a great flavor. I found this on Kraftrecipes.com. It goes well with chicken, fish, or as a stand-alone vegetarian meal.
Ingredients:
1 cup instant white rice, uncooked
1 1/2 cup chicken broth
1 1/2 cups fresh broccoli, chopped
2/3 cup mozzarella cheese, shredded
1/3 cup ranch dressing
Directions:
Pre heat oven to 350 degrees F.
Spray 10-cup muffin tin with Pam cooking spray. Set aside.
Prepare rice as directed on package, substituting chicken broth for water.
Place cooked rice in large mixing bowl and cool slightly.
Stir in remaining ingredients until well blended.
Spoon mixture evenly into prepared muffin cups.
Bake 25 minutes, or until lightly browned on top.
Allow to cool 10 minutes before removing from muffin tins.

Related Recipes