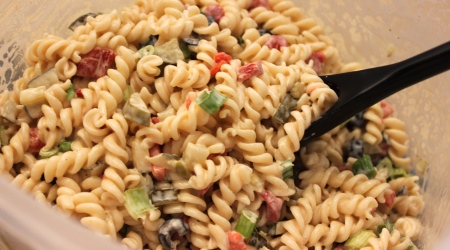 I brought this salad to a friend's house and this was her review: "Super yummy and not your typical mother's macaroni salad! My favorite things about it: the crunch, that it wasn't too mayonnaisey, and I loved the spice–it's addictive! Brandon said it was really good too! We will enjoy every bite. Thanks!!!"  That about says it all, huh?

Credit goes to thepioneerwoman.com–the recipe is all hers. (Oh, except that I used rotini noodles instead of macaroni..details…details…)
Ingredients:
4 cups elbow macaroni
3 whole roasted red peppers, chopped
1/2 cup black olives, chopped
6 whole sweet/spicy pickle slices, diced (about 1/2 cup diced)
3 whole green onions, chopped
½ cup mayo
1 Tablespoon red wine vinegar
3 teaspoons sugar
1/2 teaspoon salt
Freshly ground black pepper, to taste
1/4 cup milk
Splash of pickle juice (spicy sweet pickles)
Directions:
Cook the macaroni in lightly salted water according to package directions. Drain and rinse under cold water to cool. Set aside.
Mix together mayo, vinegar, sugar, salt, and pepper. Add milk to make it pourable. Splash in pickle juice for extra flavor. Taste and adjust seasonings as needed.
Place cooled macaroni in a large bowl and pour in dressing. (Dressing will seem a little thin, but it will thicken up as salad chills.)
Stir in olives, roasted red peppers, pickles, and green onions.
Cover and chill for at least 2 hours before serving. Tastes even better the next day!

Related Recipes