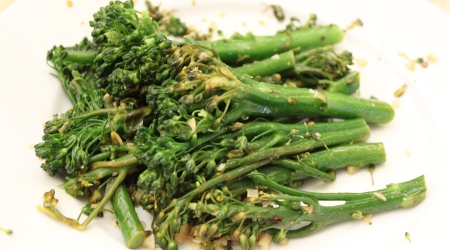 I am absolutely addicted to this dish! Broccoli rabe may be my new favorite vegetable. And sauteed in garlic, hot pepper flakes, and white wine??? Well, it just doesn't get any better than this! Thanks to epicurious.com for the fab recipe.
Ingredients:
2 lbs. fresh broccoli rabe
4 fresh garlic cloves, minced
1/4 teaspoon dried hot red pepper flakes
2 teaspoons extra virgin olive oil
1/4 cup white wine
1 teaspoon kosher salt
Directions:
Cut off and discard 1 inch from stem ends of broccoli rabe.
Cook broccoli rabe, uncovered, in an 8-quart pot of boiling water until just tender (about 3 minutes).
Transfer cooked rabe with a slotted spoon to a large bowl of ice and cold water to stop cooking.
Drain well in a colander and gently pat dry.
Cook garlic and red pepper flakes in olive oil in a 12-inch nonstick skillet over moderate heat, stirring occasionally, until garlic is golden, about 5 minutes.
Add broccoli rabe and wine.
Cook, tossing, until heated through, 3 to 5 minutes.
Sprinkle broccoli rabe with salt.

Related Recipes